'Bad Romance' by Heather Demetrios.
Publisher: Pan Macmillan.
Published: June 13th, 2017.
Page Count: 368 Pages.
Genre: YA, Contemporary.
ISBN: 1627797726.
Purchase your copy here!Book Depository  Pan Macmillan
Trigger Warnings: Physical & mental abuse, suicide and rape.
Grace wants out. Out of her house, where her stepfather wields fear like a weapon and her mother makes her scrub imaginary dirt off the floors. Out of her California town, too small to contain her big city dreams. Out of her life, and into the role of Parisian artist, New York director—anything but scared and alone.
Enter Gavin: charming, talented, adored. Controlling. Dangerous. When Grace and Gavin fall in love, Grace is sure it's too good to be true. She has no idea their relationship will become a prison she's unable to escape.
Deeply affecting and unflinchingly honest, this is a story about spiraling into darkness and emerging into the light again.
Review:
"Maybe the only way you really know you love someone is if they can break you with a single sentence".
We received a copy of this novel from Pan Macmillan in exchange for an honest review! Thank you so much Pan Macmillan!
Now that school and university has finished, we are finally finding time to start catching up on reviews and getting some extra reading time!
We did finish reading this novel a little while ago however, we can both honestly say that we are still just blown away from this book! This was one of the hardest books we have ever read. We found ourselves cringing within different scenes as we haven't read a book covering these particular topics before. These topics include physical and mental abuse, suicide and rape. It is so important for each and every one of us to recognise signs as possessiveness, jealousy and manipulation is not okay.
Bad Romance is definitely a book which will remain with us for years to come. Its truly important that we all realize our own self-worth and see how truly unique and amazing we all are. We all need to treat others the way we would like to be treated.
One of our favourite things about this novel would have to be the format. The main character Grace has basically written this book as a letter to her ex-boyfriend/abuser after the relationship was over (she tries to find closure with everything that happened). Written in the letters, Grace explains exactly how she fell in love with him (Gavin) and how their relationship became toxic.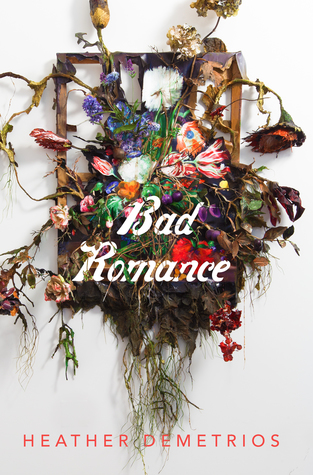 The novel follows a girl named Grace, a junior in high school who has the goal and dream to become a director for Broadway shows. She's surrounded by friends who perform these school shows together and through them, she meets Gavin. After having the biggest crush on him from a distance, there were sparks and their relationship was soon to develop.
We were never a huge fan of Gavin. He's a great actor with a love for music and of course Grace. A couple of months into their relationship, he stars to make rude, hurtful and inappropriate comments towards Grace. Feeling sick to our stomachs, we see how Gavin begins to isolate Grace away from her friends, family and her dreams. Her hopes and thoughts become his. Grace loses her connection to herself resulting in her being unable to recognise her own reflection.
We recommend this novel but please be mindful that the content of this novel may be sensitive to readers. Trigger Warnings: Physical & mental abuse, suicide and rape.
Book Rating: 4/5 Stars!