'When It's Real' by Erin Watt.
Publisher: Harlequin Teen
Published: May 30th, 2017.
Page Count: 416 Pages.
Genre: YA, Contemporary.
ISBN: 9781489239754.
RRP: $14.99 AUD.
Meet Oakley Ford-teen. Celebrity, renowned pop star, child of famous movie stars, hottie with millions of fangirls and… restless troublemaker. On the surface, he has it all. But with his home life disintegrating, his music is suddenly running dry, and the tabloids having a field day over his outrageous exploits. Oakley's team decides it's time for an intervention. The result: an image overhaul, complete with a fake girlfriend meant to show the world he's settled down.
Enter seventeen-year-old Vaughn Bennett life. Devoted sister, part-time waitress, the definition of "normal." Under ordinary circumstances, she'd never have taken this gig, but with her family strapped for cash, she doesn't have much of a choice. And for the money Oakley's team is paying her, she figures she can put up with outlandish Hollywood parties and a team of publicists watching her every move. So what if she thinks Oakley's a shallow, self-centered jerk? It's not like they're going to fall for each other in real life…right?
Review:
Firstly, we would just love to say thank you to Harlequin Teen Australia for sending us this amazing novel to review!❤️
"This is as real and as awful and as wonderful as it gets. I'd hold her forever if she'd let me".
Okay, this novel 'When It's Real' by Erin Watt was honestly just amazing and overall very addicting! Once we got into it we just couldn't put the novel down!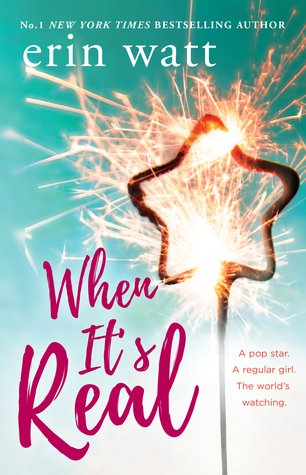 The novel begins with a completely normal and down to earth girl who has sacrificed her college and social life being a waitress to try and financially support her family after her parents were killed. Vaughn is offered an unexpected and really well pad job which is to become a member of a publicity team behind Oakley Ford, the most famous teenage pop star on the planet!
Every teenage girl has been obsessed with him at once stage of their life. He is willing to pay Vaughn $20,000 a month just to be his pretend girlfriend to help his career and his image. When Vaughn accepts the job. She has no clue, what's going to happen next!
Oakley is not happy at all about this predicament. He grew up surrounded by the spotlight as a child star so. Now, he is trying to grow up and be taken seriously as an artist. The music he has produced just isn't the sound he wants to be creating. He's lost his focus, inspiration and his mojo. As he tries to find himself again, he meets Vaughn. They are both complete opposites, in more ways than you would expect. Will she be his muse?
We absolutely recommend this novel to you all as it is just so interesting and exciting!
We absolutely loved this novel especially the characters! Oakley and Vaughn grew so much throughout this novel. They are both just so loyal, they have their own opinions and sarcastic comments to make however, they are both definitely real and honest to each other and that was really just perfect.
As soon as we started reading this novel, it was just so hard to put down. Erin Watt created a fun, addicting and exciting novel which we can't recommend enough!
Book Rating 4/5 stars.
Have you read this novel. If so, what are your thoughts? Let us know in the comments! 😊
~Georgia and Morgan